MURANO
ABOVE GROUND
SWIMMING POOL
For over 50 years, Vogue Pools has been the hallmark of innovation and quality in the above-ground pool industry. Every pool designed and manufactured is built to the same exacting standards that our customers have come to expect and appreciate. Vogue pools can transform any backyard into a recreational oasis for you and your family.If you're planning to include an above-ground pool in your backyard and want that WOW factor, look no further than Vogue. Fifty years in the pool business speaks volumes!
Steel and resin artfully combine in the eye-catching Murano. The Murano boasts strong steel uprights, contrasting resin accents, and a designer color scheme. The Murano was designed to complement all the latest outdoor décor, and will provide years of trouble-free fun in the sun for your family.Features the YES – Yard Extender System – allowing you to maximize your yard space without space-wasting oval structural supports.
100% SALT COMPATIBLE! 
Frame Colour: Pepper-Mocha
Baked-on Texture-Kote finish on all rails and uprights
52 inch tall wall with Protectoloc wall coating for long-lasting protection against  scratching, corrosion UV rays
7 inch Top Ledge of extruded resin and unique styling, and 6 inch Steel  Uprights for attractive, full-strength upright support
Two piece resin ledge covers and foot covers provide precise fit, extra strength and a decorative finish
40 Year Manufacturer's Prorated Warranty
Made in Québec, Canada
Round 8, 12, 15, 18, 21, 24, 27
OVAL 12×18, 12×24, 15×24, 15×30, 18×33
make your purchase easier
Above Ground POols Starting at $46.97*
Approved in Minutes.
No Obligation.
No Commitment To Buy.
*SUBJECT TO CREDIT APPROVAL. ACTUAL INTEREST RATE, PURCHASE AMOUNT THRESHOLD, PAYMENTS AND TERMS ARE SUBJECT TO CHANGE AND MAY VARYPAYMENT AND INTEREST RATE APPLY TO TERM ONLY. FOR INFORMATION PURPOSES ONLY. NOT A FINAL OFFER. Purchase amount $3632.00 Interest rate (variable) 9.49% Term 120 months open
Checkout what our customer says about us!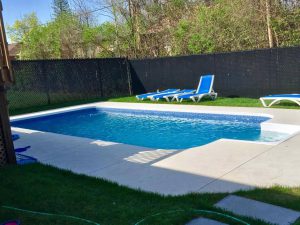 © 2019 Seychelles Piscines et Spas