EPIC ATLANTIC
ABOVE GROUND
SWIMMING POOL
One of North America's original manufacturers of above ground pools.
Atlantic pools began operations in the 1930's and a decade later were leading the way in the development of above ground pools.
Their commitment to innovation, product quality and above all else, customer satisfaction, has earned them a worldwide reputation for outstanding value and unwavering reliability.
Atlantic pools has the pool to fit any budget and to help create the perfect escape in any backyard setting.
Both the round and oval styles are equipped with exclusive support systems designed to deliver a level of styling, structural support, and ease of assembly unsurpassed in the industry.
Atlantic pools are made with hot-dipped premium galvanized steel, and corrugated walls to ensure long-term resistance to ice and impact damage. A sophisticated system of coatings protects against the effects of corrosion, UV exposure, and everyday wear and tear.
Loads of family fun and worry-free relaxation come with every Atlantic pool!
Frame Colour: Choco-Mocha
Baked-on Texture-Kote finish on all rails and uprights
52 inch tall wall with Protectoloc wall coating for long-lasting protection against  scratching, corrosion UV rays
7 inch Top Rails of roll formed steel for strength and unique styling, and 6 inch Steel  Uprights for attractive, full-strength upright support
One piece resin ledge covers and foot covers provide precise fit, extra strength and a decorative finish
40 Year Manufacturer's Prorated Warranty
Made in Québec, Canada
Round 8, 12, 15, 18, 21, 24, 27
OVAL 12×18, 12×24, 15×24, 15×30, 18×33
make your purchase easier
Above Ground POols Starting at $46.97*
Approved in Minutes.
No Obligation.
No Commitment To Buy.
*SUBJECT TO CREDIT APPROVAL. ACTUAL INTEREST RATE, PURCHASE AMOUNT THRESHOLD, PAYMENTS AND TERMS ARE SUBJECT TO CHANGE AND MAY VARYPAYMENT AND INTEREST RATE APPLY TO TERM ONLY. FOR INFORMATION PURPOSES ONLY. NOT A FINAL OFFER Purchase amount $3632.00 Interest rate (variable) 9.49% Term 120 months open
Checkout what our customer says about us!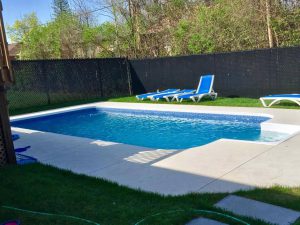 © 2019 Seychelles Piscines et Spas