TRADEWIND
ABOVE GROUND
SWIMMING POOL
WARRANTY ONE OF THE LONGEST WARRANTIED POOLS IN THE INDUSTRY!ADVANCED COMPUTER AIDED DESIGN. COMBINED WITH LEADING EDGE GAS ASSIST INJECTION MOLDING TECHNOLOGY ALLOW FOR THE PARTS TO FIT PERFECTLY.MULTITUDE OF FEATURES.OUR TRADEWINDS POOL HAS A SPECIAL BLEND OF UV INHIBITORS IN ORDER TO POSTPONE AND REDUCE FADING FROM THE SUN.OUR TRADEWINDS POOL HAS A ROBUST INJECTION-MOLDED RESIN STRUCTURE, WALLS FINISHED WITH ZURATEX 3000 CORROSION COATINGS. ALL WALLS ARE PROTECTED AGAINST HUMIDITY AND CHEMICALS. POOL FEATURES ALL RESIN CONNECTING PLATES. PRECISION-ADJUSTED COMPONENTS.
RESIN CONSTRUCTION! ALL COMPONENTS OF THE RESIN POOL STRUCTURE ARE MOLDED BY AN INJECTION PROCESS THAT ENABLES REINFORCING FOR EVERY COMPONENT(RIBBING PROCESS), TO CURVE THE TOP SET AND ALSO, TO USE OUR STURDY SNAP-IN-PLACE SYSTEM THAT ELIMINATES HARDWARE. ALL RESIN COMPONENTS ARE COLORFAST THROUGHOUT.
STAINLESS STEEL FRAMING HARDWARE.
HIGH GRADE STAINLESS STEEL NUTS, BOLTS AND FASTENERS ARE USED WITH THIS POOL, ELIMINATING THE WORRY OF RUST SPOTS ON YOUR POOL.
STAINLESS HARDWARE HAS A HIGHER TENSILE STRENGTH THEN THE NORMAL HARDWARE THAT IS SUPPLIED WITH MOST POOLS.
STAINLESS STEEL IS STRONGER AND IT WILL HOLD UP TO HARSH CORROSIVE ENVIRONMENTS AND WILL ALSO HOLD UP IN PLACE WITH VERY HIGH OR LOW TEMPERATURES.
RESIN COMPONENTS.
ONE OF THE BENEFITS OF RESIN CONSTRUCTION IS A NON-CORRODING PRODUCT. SINCE THERE ARE NO EXTRA COATINGS APPLIED TO THE RESIN, YOU WILL NOT HAVE POOL PARTS CRACKING, CHIPPING OR COMPLETE PARTS FAILURE.
OUR TRADEWINDS POOLS HAVE U.V. INHIBITORS IMBEDDED IN THE RESIN PROVIDING ADDITIONAL PROTECTION AGAINST THE ELEMENTS.
GALFAN COATING PROTECTION
WALLS ARE ALL FINISHED WITH A GALFAN FINISH. GALFAN IS A METAL BASED MATERIAL THAT IS USED IN HEAVY-DUTY INDUSTRIES, LIKE THE AUTOMOBILE INDUSTRY. IT STANDS UP TO THE REGULAR WEAR AND TEAR WITH A UNIQUE BALANCE OF MALLEABILITY AND STURDINESS.
GALFAN COATING FEATURE EXCELLENT CORROSION RESISTANCE. GALFAN COATING IS PRODUCED ON BOTH-SIDED IN A CONTINUOUS HOT-DIP COATING PROCESS, IT PROVIDES CORROSION PROTECTION FOR AREAS OF EXPOSED AREAS, AND OFFERS FULL CORROSION PROTECTION BECAUSE OF IT'S LOW-FRICTION AND TIGHTLY BONDED COATING.
HARDNESS OF GALFAN COATING THAT IS COMPOSED OF 95% ZINC AND 5% ALUMINUM, HAS A EUTECTIC STRUCTURE LEADING IT EXCELLENT DUCTILITY AND THIN INTERMETALLIC LAYER AT THE COATING INTERFACE GUARANTEES EXCELLENT COATING  ADHESION.
GALFAN WAS DEVELOPED AROUND 1980 AT THE CENTRE DE RECHERCHE'S METALLURGIES (CRM) IN BELGIUM UNDER THE SPONSORSHIP OF THE INTERNATIONAL LEAD ZINC RESEARCH ORGANIZATION (ILZRO)
make your purchase easier
Above Ground POols Starting at $46.97*
Approved in Minutes.
No Obligation.
No Commitment To Buy.
*SUBJECT TO CREDIT APPROVAL. ACTUAL INTEREST RATE, PURCHASE AMOUNT THRESHOLD, PAYMENTS AND TERMS ARE SUBJECT TO CHANGE AND MAY VARYPAYMENT AND INTEREST RATE APPLY TO TERM ONLY. FOR INFORMATION PURPOSES ONLY. NOT A FINAL OFFER. Purchase amount $3632.00 Interest rate (variable) 9.49% Term 120 months open
Checkout what our customer says about us!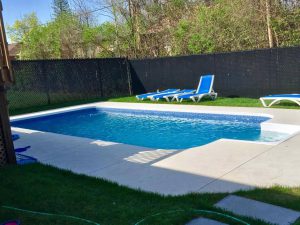 © 2019 Seychelles Piscines et Spas